Thank You To All Of Our Veterans
If you're one of the brave men or women who have sacrificed for the rest of us, many Lowcountry businesses are saying thank you today. Here's a list of where Veterans can enjoy free admission and free meals today:
VETERANS DAY SPECIALS
CharlestonMuseum - Veterans and Active Duty Military get free admission
FortMoultrie - Free admission for everyone at the Fort Moultrie National Monument on Sullivan's Island(9A – 5P today)
Joseph Manigault Historic House – free admission for Veterans and active duty military
PatriotsPoint & MaritimeMuseum- Free admission to veterans
FREE MEALS:
Applebee's: Free meal from a special menu Monday.
Bonefish Grill: Free appetizer Monday.
Bruegger's Bagels: Free bagel and cream cheese Monday, no purchase necessary.
Buffalo Wild Wings: Free small order of boneless wings and fries
Chili's Grill & Bar: Free meal from special menu Monday.
Chipotle Mexican Grill: Buy-one-get-one free Monday, in-restaurant only.
Cicis: Free adult buffet for veterans with military ID and coupon
Cracker Barrel: Free slice of Double Chocolate Fudge Coca-Cola Cake or Pumpkin Pie Latte.
Denny's: Free "Build Your Own Grand Slam" from 5A to noonMonday. Dine-in only.
Dunkin': Free doughnut Monday
Golden Corral: Free dinner buffet and beverage from 5 to 9P
Hooters: Free meal from a special menu Monday.
IHOP: Free red, white and blueberry pancake combo from 7A to 7P
Little Caesars: Free Hot-N-Ready Lunch Combo between 11A and 2P
O'Charley's: Free meal Monday from special menu.
Olive Garden: Free entree from a select menu Monday.
On The Border: Free combo meal Monday.
Red Robin: Free Red's Tavern Double Burger with fries Monday.
Starucks: Veterans, active service members and their spouses receive a free cup of coffee Monday.
Sticky Fingers (All locations) will be offering a free sandwich all day to all Veterans
Texas Roadhouse: Free lunch from special menu 11 a.m. to 4 p.m.
Zaxby's: Free Southern TLC Fillet Sandwich Monday.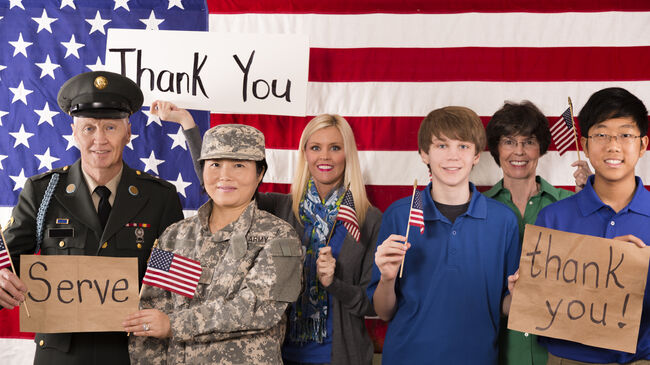 Brian Cleary
Wake up with Brian Cleary playing Better Music for a Better Workday on the Y Morning Wakeup!