Hilary Duff Savagely Calls Out Horrible NYC Neighbor and OMG
Don't mess with Hilary Duff. The Younger actress and songstress went off on her NYC neighbor via Instagram Stories on Wednesday, May 16, for being disrespectful and keeping her and her 6-year-old son Luca up at night.
"Calling all New Yorkers with a--hole neighbors, really open to any advice you have," the Lizzie McGuire alum posted while venting about a neighbor named Dieter Addison. "My neighbor smokes cigarettes and weed all night long. My apartment reeks. Seriously, what do I do? We know your parents pay your rent, we know you've never worked a day in your life. Must be nice. Have some respect for your neighbors who work hard to live in that building," she continued, shaking her head. "Don't be a dick, dude. And put your trash down the chute."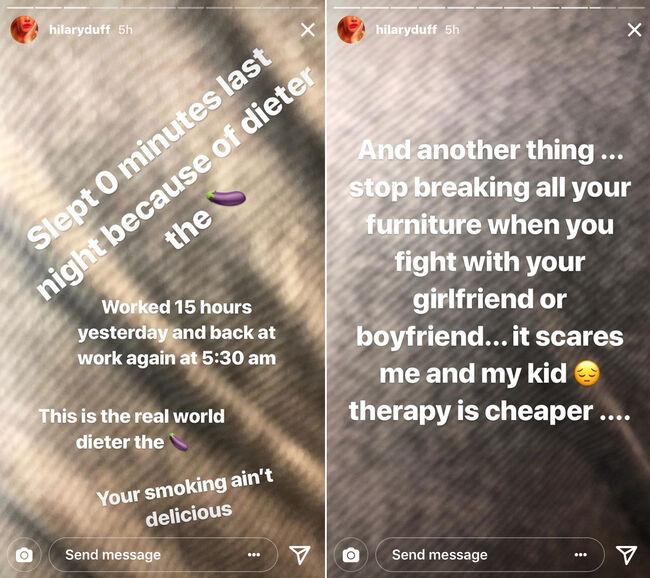 Duff continued: "Slept 0 minutes last night because of Dieter the [eggplant emoji]. Worked 15 hours yesterday and back at work at 5:30am. This is the real world Dieter the [eggplant emoji]. Your smoking ain't delicious."
The songstress didn't stop there, either.
She also posted the neighbor's Instagram account along with his photo and the following messages: "I really hope your hangover hurts. … And another thing … stop breaking all your furniture when you fight with your girlfriend or boyfriend… it scares me and my kid. Therapy is cheaper."
She concluded her tirade by encouraging him to "get a vape."
😱
Duff lives in NYC while filming Younger and also in Los Angeles. She shares Luca with ex-husband Mike Comrie.